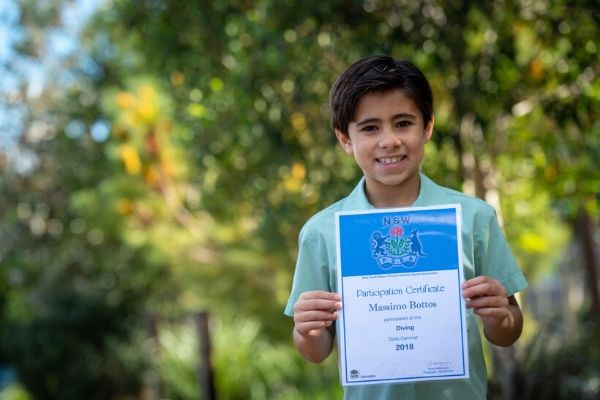 Massimo Bottos decided to take up diving while watching TV.
"When I watched the Commonwealth Games I got a little bit inspired," he said.
Having quit gymnastics when his coach requested a five-day-a-week commitment, the Year 4 student at Our Lady of Fatima Catholic Primary School Kingsgrove was inspired to try flips and tumbles into the pool instead.
While the Commonwealth Games might be out of reach for now, Massimo represented his school at the state-wide NSW PSSA Primary Diving Championships at Sydney International Aquatic Centre on 11 April after taking up the sport at the beginning of this year. He narrowly missed out on fourth place, and gained fifth in the competition.
Massimo said it was a fun experience, adding his favourite part was "when I got to dive into the water, because it was really cold and the water was warm."
Six boys and three girls competed in his under 10s division, and Massimo knew a few of them from the group diving training he attends at the aquatic centre.
"Sometimes we do somersaults," he said. "Sometimes we do inward, so we flip backwards, and then there's reverse dive, where you stand one way and then you flip and land the other way."