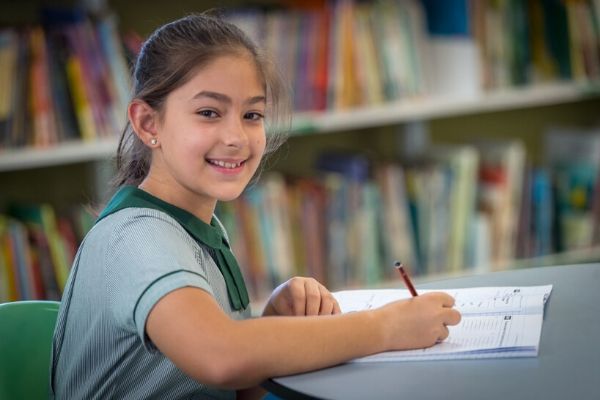 Sophie Kassiou gained early exposure to high school Maths in accelerated lessons at St Ursula's College Kingsgrove last year, with a handful of her Newman Selective Gifted Education Program peers.
On Tuesday 10 April, the Year 6 student at Our Lady of Fatima Catholic Primary Kingsgrove sat a selective test to enter the Newman program as a Year 7 student at St Ursula's.
Seven Sydney Catholic secondary schools now offer the Newman Selective Higher Ability Assesment, which is designed to provide a continual gifted education pathway for students at Sydney Catholic schools by streamlining access to the Newman program at high schools that offer it.
St Ursula's College, Marist College North Shore, Marcellin College Randwick and Bethany College Hurstville all welcomed Year 6 students from Catholic and public primary schools to sit the test at their schools this month for the first time.
The test was developed by Sydney Catholic Schools (SCS) with the Australian Council for Educational Research (ACER). It focuses on four key skill areas including abstract, verbal and quantitative reasoning, and written expression.
Unlike admission into the state's selective schools, the test results form only part of the selection process for the Newman Selective Gifted Education Program. Samples of students' work, data including test results from their primary schools, and evidence of giftedness submitted by parents form a portfolio to give a holistic view of students' abilities.
One question was completely different to another.
Through the program, Sophie has studied high school content including fractions and algebra in Maths, her favourite subject. She has also been extended in Australian history topics.
"Last year was mostly algebra," she said. "I like being challenged and trying my best to reach my goals. Newman gives me the opportunity to learn more.
"I decided to sit for the test because I feel like I want to be challenged at a higher level and think that in Year 7 that will help me."
Our Lady of Fatima's Newman facilitator Claude Tarazi said the Newman program provided students at the school with extension opportunities in Science, Maths, History, Geography and Religious Education to encourage high order thinking skills from Kindergarten through to Year 6.
Mr Tarazi said teachers at St Ursula's were already familiar with many of the students sitting the assessment, as Newman students from both schools had collaborated on inquiry-based and independent research projects. The relationship provides teachers with knowledge of their future students and allows the students to work with like-minded peers. The portfolios that accompany test results are similarly beneficial.
"As a primary school we have a whole range of information about the child," Mr Tarazi said.
"By being able to pass it on to the high school, they don't have to start from scratch. They already have a profile of the students' interests and needs, test results and achievement levels so they are better able to cater for their educational needs.
"Because those continuing opportunities to be extended are within the system, they do not need to go out and be isolated from people who already know them."
I want to be challenged at a higher level.
St Ursula's Diverse Learning Coordinator and Newman Facilitator Lisa Ganderton said the test would provide extensive data to help identify gifted students for a place in the Newman program, but there was flexibility for students to join the program at St Ursula's in Years 8 to 10.
"I think what we are doing well in the Catholic system is that the emphasis is not just based on one test," she said. "A student could not feel well on the day of the test and not do so well, so it's important we look at multiple sources of criteria when we identify a student's abilities.
"The test went very smoothly. The girls told me they found it quite challenging which I think is a good thing. The data from today will tell us a lot about their abstract reasoning skills, their verbal reasoning skills, and their written expression skills."